Are you a busy working mom looking for a weekly planner to organize all things home and life?
Updated: June 2023
Then you're in the right place. In this article, you'll learn more about The Living Well Planner and how it can help you have a more productive and organized life as a work at home mom. 
This article may include links that are affiliate links which means I get a small commission for your purchase and doesn't affect your shopping experience. I am part of the Amazon Associate program as well as others. My recommendations will always be honest. For more information, you can find our disclosure policy here.  
Why I Chose The Living Well Planner
Like you, I was looking for a way to balance all the things I was juggling as a busy working mom. Working my 9-5 and trying to juggle my side hustle business with all the things at home started to feel overwhelming. Then, when I started working from home, I wasn't accustomed to juggling all the things that work at home moms do with all of the business duties being mixed in with chores and meal planning and everything else. 
After weeks of scribbling down to-do lists on random pieces of paper and trying various productivity apps, I heard Ruth Soukup talking about her mom life planner The Living Well planner.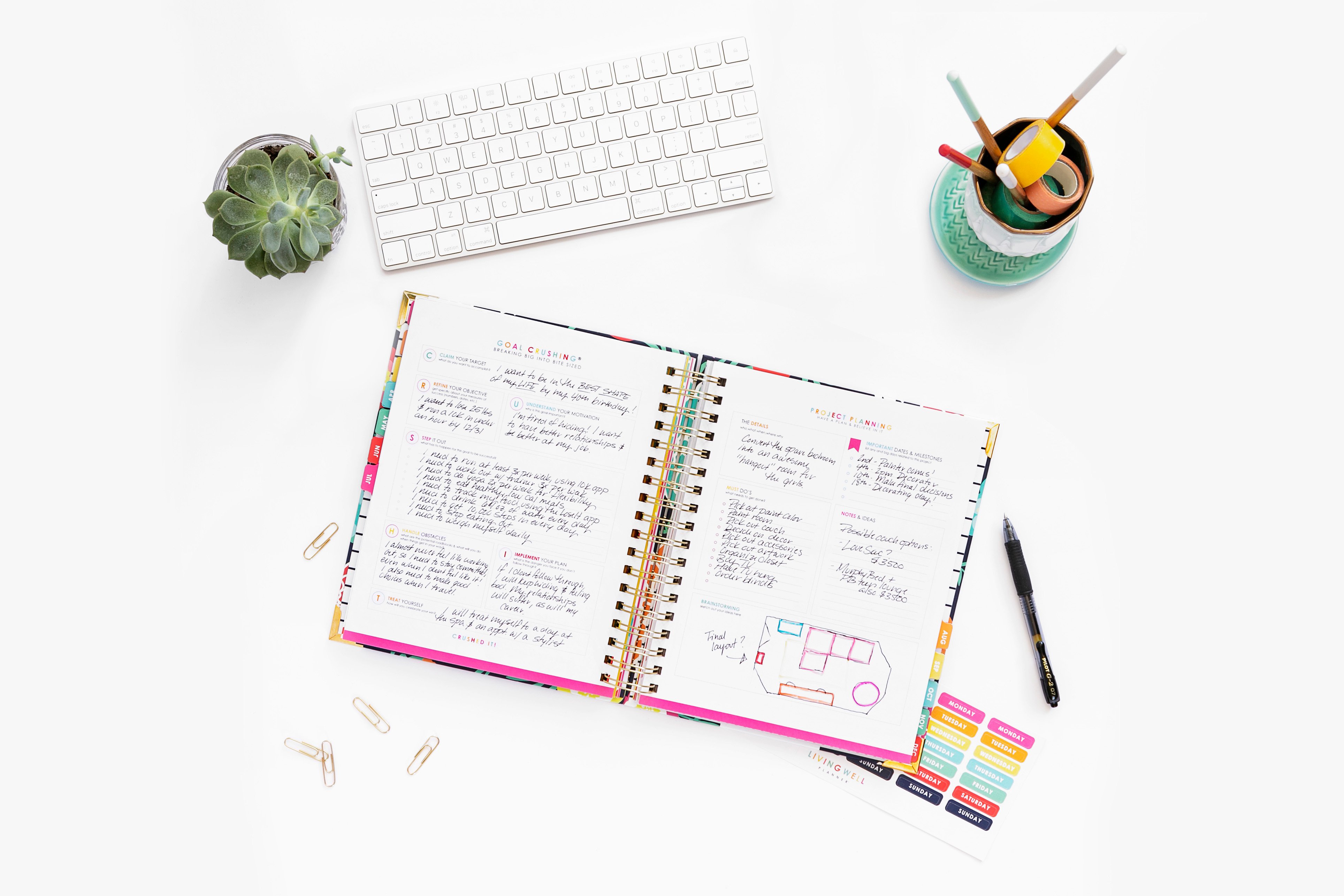 Now, I'm already in Ruth's course Elite Blog Academy and love her Do It Scared podcast, so I know that she puts out amazing products. 
Still. I didn't want to just buy any planner. 
I needed a planner that allowed me to be flexible, manage my daily tasks, keep up with all things due, factor in meal planning (since I was on a budget but also didn't want to spend forever thinking about what to make for dinner each night), and more.

Turns out, The Living Well Planner fit the bill. I ordered it right away and have loved using it.  
Is The Living Well Planner Right for You? 
I know you don't want to waste money on a planner you might not use and not every planner is perfect for everyone. 
So to help you out, I did a walk-through video of what the planner looks like and everything you get with it (watch the video below) so you can decide if it's right for you.
Hopefully that overview of The Living Well Planner gives you a good idea of what the planner has to offer and how it can help you create some sense of the chaos that is being a working mom running her own business.
They also have 3 different color options now so if you're like me and love floral, then you can go that route, but if you're more neutral, then they have a navy one that's really nice as well.
Accessories I've loved for the Living Well Planner

I'll also say a must-have to go with the planner has been my Frixion pens. These erasable pens are fun to use with their colors and the fact that they're erasable has been a lifesaver for sure when we change up our meal plans or my schedule needs to be changed.
I also got the Daily Do It sticky notes and the Daily Focus sheets to really help make sure I get stuff done. (Note: They no longer offer the Daily Focus sheets, but they do offer the Weekly Wizard Sheets which are amazing as well.)
Being able to write things out in the planner and then use the daily sheets to write the tasks down and put on the fridge really helps me stay focused.
Final Thoughts
The Living Well Planner has a ton of things going for it:
Let's you see everything laid out by the month, week and day
Has separate sections for factoring in meal planning and budgeting
Comes with tons of extra to help you focus on meaningful goals rather than just getting things checked off a list 
Undated so you can customize it to your liking 
Comes with fun stickers to help bring it to life
If you decide to get it, I'd love to hear any tips or hacks you have for making the planner work for you.
I can always use some tips for making it better!